How the King of the Hammers Got its Crown
At first glance, Johnson Valley, California looks deceivingly empty. But there's a lot of history tucked into that great, wide nothingness. Beneath the cracks in the dried earth lie the story of a vast, ancient lake. And within the humble cliff rocks — some of which date back billions of years — lies the birth story of the earth itself.
Before the dawn of the last ice age, Johnson Valley was a lively landscape of lakes and rivers. A wet, tropical grassland, teeming with the comings and goings of the circle of life. Then the Sierra Nevadas rose, forming a vast, mountainous wall. And in its shadow formed the great Mojave Desert — the harshest, driest place in all of North America.
In the 20th Century, the valley transformed into a sprawling military training camp. In those days, Means Dry Lake was referred to as "Precision Bombing Range Y." Today, mysterious rings remain in the sand — concentric circles of concrete used for target practice.
In 2007, the land was reborn yet again.
Its storied history remains, but it goes by a new name now.
For one week each year, this empty, desolate valley becomes a 59,000-square foot city of tents, trailers, RVs, tow-rigs, and race vehicles. It's the epicenter of activity for miles in any direction. They have a power grid, a sanitation system, a public wifi network, and a system of carefully-planned tent blocks for navigation. It's a gathering place for man, machine, and of course — some of the toughest off-road racing talent in the world. They call it "Hammertown."
What's all this infrastructure for? The King of the Hammers — one of the most highly-anticipated off-roading events of the year. It's a week-long series of races and rock crawling competitions that draws athletes and fans from all over the world.
This year, the population of Hammertown is expected to top 60,000 spectators, all there to watch the "Kings" of off-road racing tear through the desert and crawl up the canyon sides at seemingly-impossible angles. Millions more of them will watch the races and events online from home.
A mere 15 years ago, it was an abandoned training camp in a deserted valley.
How did we get here?
it started with two men and a napkin
One night in a San Bernadino bar, buddies Dave Cole and Jeff Knoll had a few beers. They had a few more. And then, they started dreaming big. Sparks flying, they grabbed a nearby cocktail napkin and drew themselves a racecourse. It was built from a string of existing trails, passing through canyons, cliffs, dunes, flats, whoops, and plenty of fine desert dust. It was a course designed to challenge each of them in a different way.
Cole was a rock crawler who happened to have a good relationship with the Bureau of Land Management (the government entity in charge of Johnson Valley after the military cleared out). Knoll was a desert racer who had some experience on the organizational side of racing. Together, these different skill sets and perspectives combined to create something new — and a little bit out there.
Year one was nothing fancy. They picked a Friday and invited a dozen friends, friends-of-friends, and a couple of total strangers to come out and race. This first group is now known as "the OG 13." (There were, in fact, only 12 of them, but a baker's dozen is what stuck.) The first race had a shotgun start, with all entries in a line. There was no entry fee. No champagne fanfare at the finish. Not even a checkered flag.
The grand prize was a case of beer, and the promise that "since you raced this first one, you won't have to qualify when we get really big."
That idea that this tiny, 12-entry race would one day be huge was pretty laughable at the time. It wasn't something that had been done before. It was in a highly-remote area where no one was regularly going off-roading, and on top of everything, the landscape required a vehicle that no one had ever built.
But before they had a name, a logo, or a following, Dave and Jeff had a vision.
As a rock-crawler/desert racing friend duo, the two understood that the sense of camaraderie and competition between them was what made their idea so special. The lyrics "anything you can do, I can do better" hummed in the background whenever they discussed who would thrive under their race's hybrid crawler/racer circumstances.
With that energy in mind, Jeff posted on a forum asking, "how fast could someone run eight trails consecutively at the Hammers?" Dave then fed the fire, betting $100 that no one could do it in under five hours. After the commenters argued back and forth for a good while, they shared the results of the first race. Everyone in that thread walked away thinking the same thing: I have to try this!
Next year's race had 50 entries, a healthy mix of rock crawlers and desert racers — all of whom wanted to see how well they could handle the other group's wheelhouse. A wild and dramatic finish (Shannon Campbell was crowned King after moving from dead last to head of the pack) sparked even more buzz around the novel race.
In the years that followed, the King of the Hammers threw bigger challenges at its growing list of entries — and the pack brought the experimental thinking, newly-modded vehicles, and caution-to-the-wind attitudes required to meet them. It was all a potent recipe for intrigue, buzz, and photo-finish results. As wild-west as the operation was, the race teams still came running.
They were right to. The unique topography of Johnson Valley, combined with the founder's off-the-wall ideas, offered an opportunity to create an entirely new kind of off-road racing challenge. A hybrid race, combining skills and features from multiple existing events throughout the sport. Over its short lifetime, the Hammers grew large enough to fill a gap that the off-roading world didn't even know it had.
It was a whole new sport. And it created a whole new ride: the Ultra4 car. A cross between a trophy truck and a rock crawler, Ultra4 cars packed speed and agility into a vehicle like nothing had before. Featuring 800+ HP, 4-wheel drive, and notably, large tires mounted on wide, flexible axles, "hammer cars" represent an exciting new branch in the evolution of off-road recreational vehicles.
One entirely purpose-built for the Johnson Valley landscape.
Just another chapter in the epic story of this grassland-turned-desert-turned-royal offroad realm.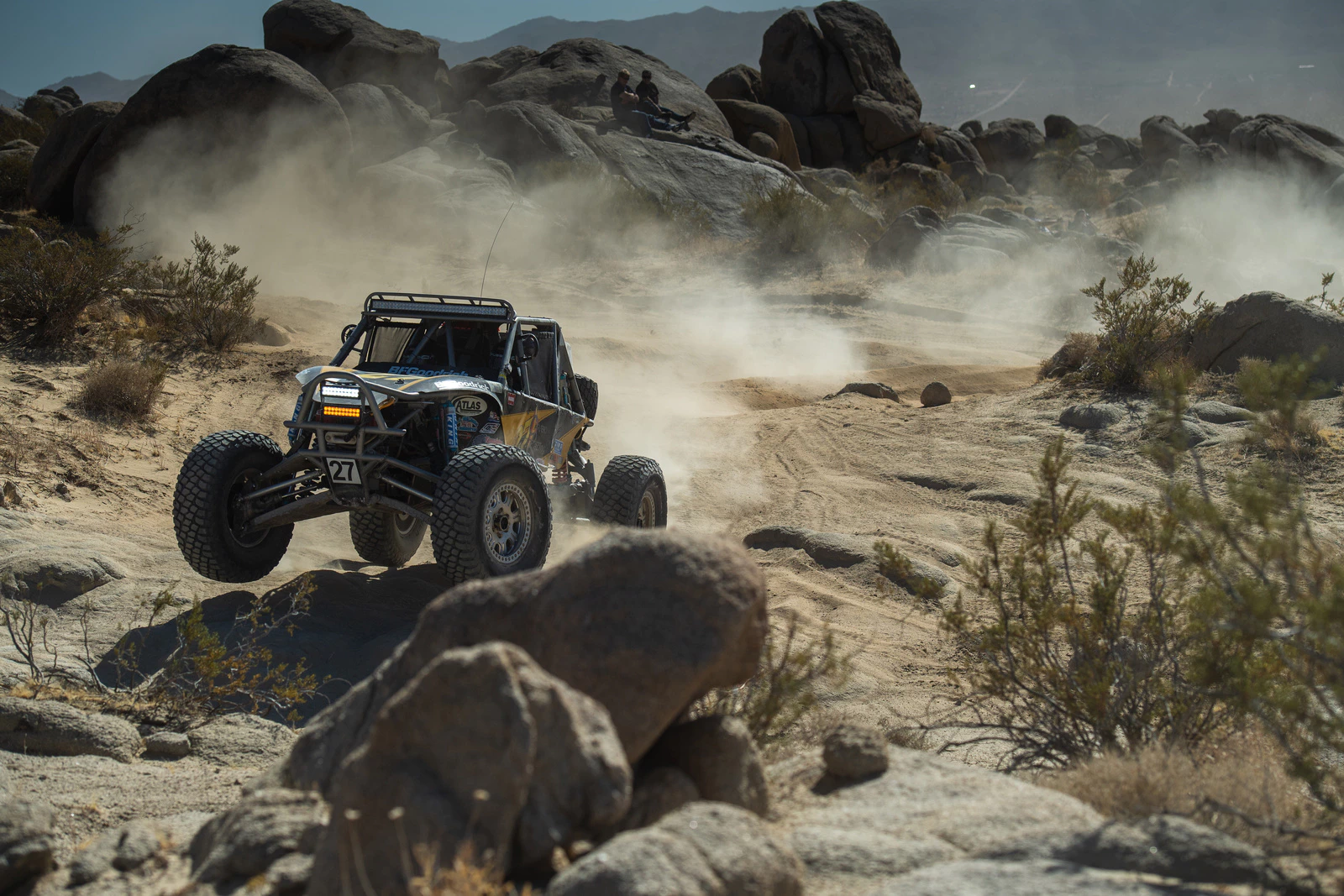 SEE WHAT's GOING ON IN THE BFGOODRICH ONTRAIL COMMUNITY
See the latest episodes of our Guided by OnTrail series.