The Keys to Successful Off-Roading
So you want to go off-roading?
Off-roading can be an exciting and fun adventure that can leave you exhilarated and refreshed.  But off-roading can also be a risky business.
There are many pitfalls and potential hazards that could cause problems. Here are some tips to help make sure your off-road adventure doesn't become a tragedy.
We can't stress this one enough! So we'll say it again. Don't go alone! You don't want to get yourself and/or your vehicle into a situation you can't get out of with no one around to help you.
Much off-roading is done in remote and sometimes desolate areas.  Even when you're off-road in a park, you can still be away from other people who could help. Cell signal can't always be relied on in the off-road world.
By the nature of the activity, the purpose is to test yourself and your vehicle against the rugged terrain with plenty of obstacles and hazards where you can get stuck - and if you off road regularly, you will get stuck at some point.
In addition to making it safer, having friends around makes for a more enjoyable trip. We believe that off-roading done as a group activity is more - more laughter, more fun, and more memories on your off-road adventures.
When you're off-roading, limits are everywhere.
There are the limits of your skills and experience. No two drivers' experience and skill levels are the same. All trails vary in difficulty. Much of the public's perception of difficulty can be attributed to individual experience level. Inexperienced drivers may attempt to fight above their weight class and end up causing unnecessary damage to their vehicles. Be realistic about what you are capable of handling. Remember, the weather can have an impact on the condition of a trail and may cause a normally mild trail to become much more challenging.
There are the limits of your vehicle. Whether fresh from the factory or built in your garage, no two vehicles are alike. Which is why one of the most important ways you can prepare for the rigors of recreational off-roading is to know your vehicle, inside and out. From your vehicles angles and clearance, to your transmission, knowing your vehicle can help you in many situations. In the world of four-wheeling, knowledge is power – and a good place to find that knowledge is by actually reading your owner's manual.
There are the limits set by the terrain you're driving on. Hills can be too steep. Clearances can be too shallow. And most common of all: blind spots can hide obstacles. When traveling slowly and steadily through a complex topography, it's easy to forget what's right in front of you. When in doubt, ask for a spot. It may be difficult to locate the proper line from behind the steering wheel. A trusted spotter can save you from injuring yourself or causing costly damage to your vehicle.
Off-road recreation comes with risks. Minimize those risks by following some basic safety rules.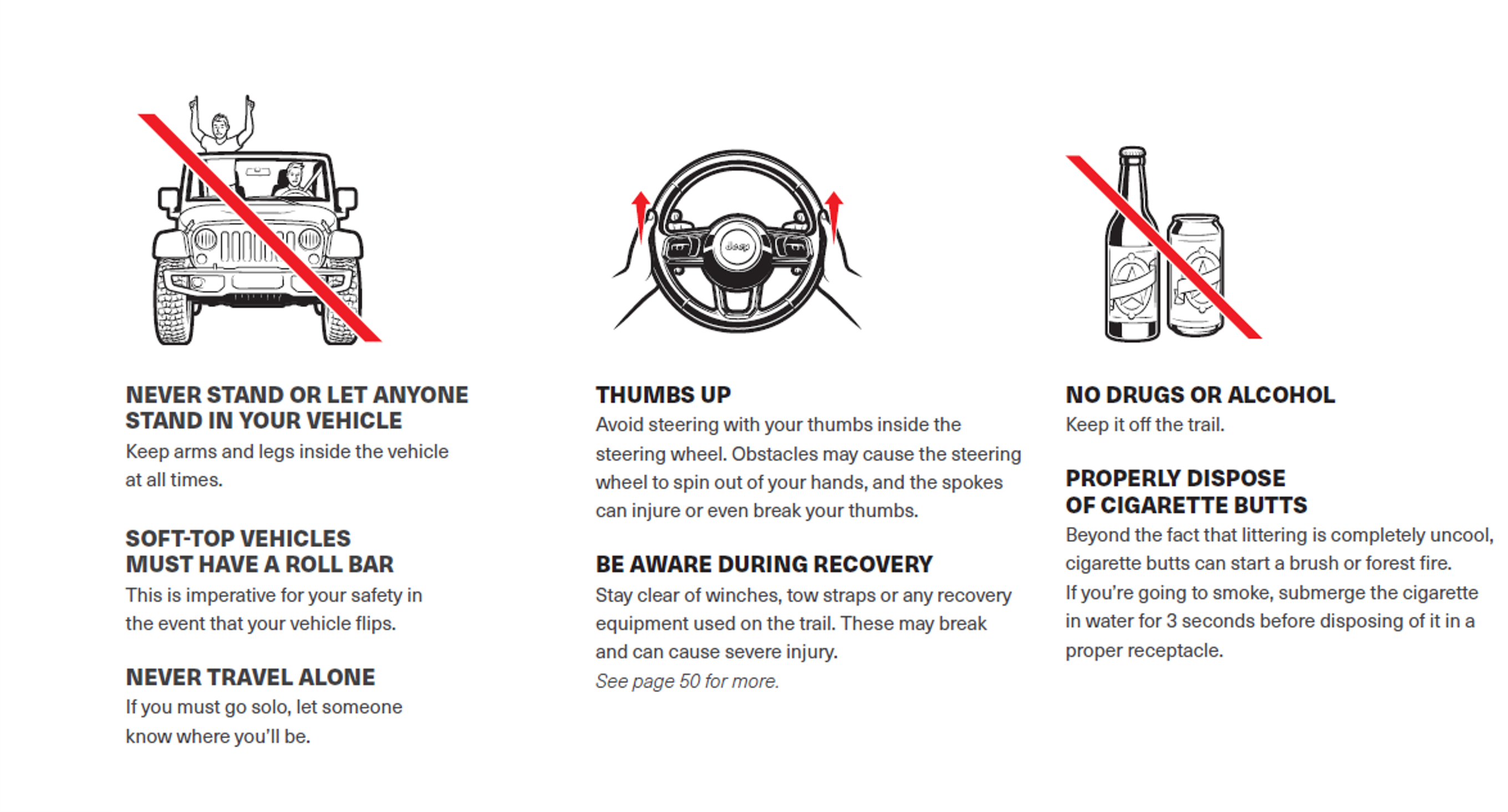 Choosing the right tire is a crucial part of preparing your vehicle for off-road. Unless you are into racing or extreme rock crawling, you'll probably be looking at either an all-terrain or mud-terrain tire. Tires are more than looks, the tire's ability to perform should always outweigh its aesthetics.
Knowing your driving style and the types of terrain you'll likely encounter is key to making a well-informed decision. Do your research, ask questions and be realistic about what you need from your tires.
To see the best tire for your vehicle, consult our Tire Selector.
The last thing you need on an off-road trail is for your vehicle's warning lights to come on or you vehicle to breakdown.
Before you head off into the wilderness get your rig checked. For a dealer near you that can prepare your vehicle for the rigors to come, refer to our Dealer Locator.
Ready to go? Not yet!
Make sure you have everything you need on your trip for every eventuality.  To see more information, Gear Up Before You Go.
Hone your Off-Road Skills
Whether it's in our work life or our private one, when we want to take on a new field or skill we know that education is the way.  With over 40 years of off-road experience BFGoodrich have learned a a lot.
Check out the BFGoodrich OnTrail Academy for tips and knowledge about driving, off-road and on.
For a more in depth look at off-road driving techniques, see our Ultimate 4X4 Driving Guide
SEE WHAT's GOING ON IN THE BFGOODRICH ONTRAIL COMMUNITY
See the latest episodes of our Guided by OnTrail series.