For more than 40 years, our never-satisfied approach to tire making has built our reputation as an off-road leader. After years of industry firsts, creating a desert racing dynasty and countless overlanding adventures, we've learned this: If you're not pushing yourself to do it better, then there's no point in doing it at all.
We've always believed, to know where you're going, you have to know where you came from.  So let's start with some off-road history!
Whoever coined the phrase "those who can't do, teach" clearly never met Mark A. Smith. A trailblazer, pioneer and all-around badass, Mark was affectionately known as the father of modern four-wheeling, and for good reason.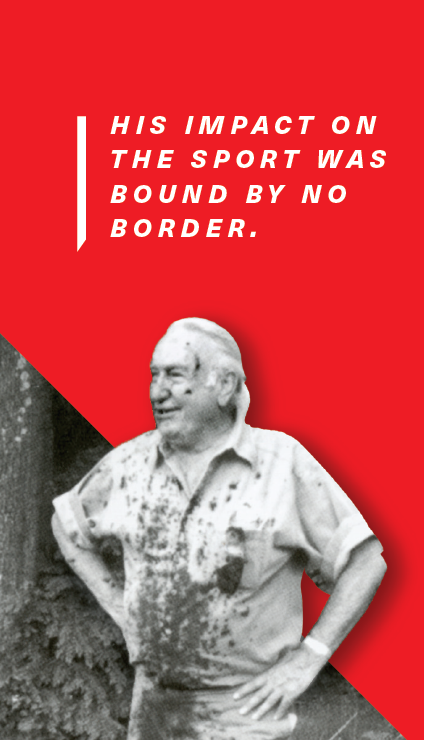 As the founder of Jeep Jamboree, Mark popularized the sport of recreational off-roading in the western United States and turned the Rubicon Trail from exotic foothill into one of the most respected off-road trails in the world.
But his impact on the sport was bound by no border. In search of the ultimate off-road conquest, Mark led the Expedicion de las Americas, a 20,000-mile trek from the southernmost tip of South America near Tierra del Fuego to Prudhoe Bay, Alaska, above the Arctic Circle. This was the first nonmilitary expedition to cross the Darien Gap, an impossible landscape that took the only successful army detachment an excruciating 100 days to traverse. But in typical Mark fashion, his team did it in only 30.
While he could have retired right then and there, with nothing left to prove and a new Jeep tattoo on his rear, he helped scout and brief contestants at the 1987 Camel Trophy event, quite possibly the world's most intense overlanding adventure. Competitors from around the world traversed the entire island of Madagascar, the first ever north-to-south crossing of its kind.
Mark dedicated his life to learning and teaching safe and practical off-road driving techniques to all who would listen. Many of the techniques depicted in this guide were developed and continually shared by Mark himself. Sadly, Mark passed in 2014, but his impact on the sport of off-roading will be felt forever.
On behalf of BFGoodrich Tires and the entire off-roading community, we dedicate this book to the life's work of off-roading legend Mark A. Smith. His passion and leadership have paved the way for us all.
There was a time in the not-so-distant past when off-roading wasn't accessible to many. While there have been many advancements to vehicles and suspension systems over the years, none have been more impactful than those made to tires. Something we at BFGoodrich® Tires hold near and dear to our hearts.
 Until the late 1970s, the recreational light truck market ran solely on bias tires. For those who aren't tire nerds like us, driving on bias tires was basically the equivalent of driving on old tractor tires. Sure, they were tough, but also incredibly stiff, prone to tire slip and designed to bulldoze rather than grip. Since this design absorbed little to no shock, you literally felt every bump along the way. Even a short off-road drive was taxing to both vehicle and driver.
You could say the entire industry was stuck between a rock and a hard tire. Passionate off-road drivers of the time just accepted the tire torment as a necessary evil, but our engineers were determined to find a better way.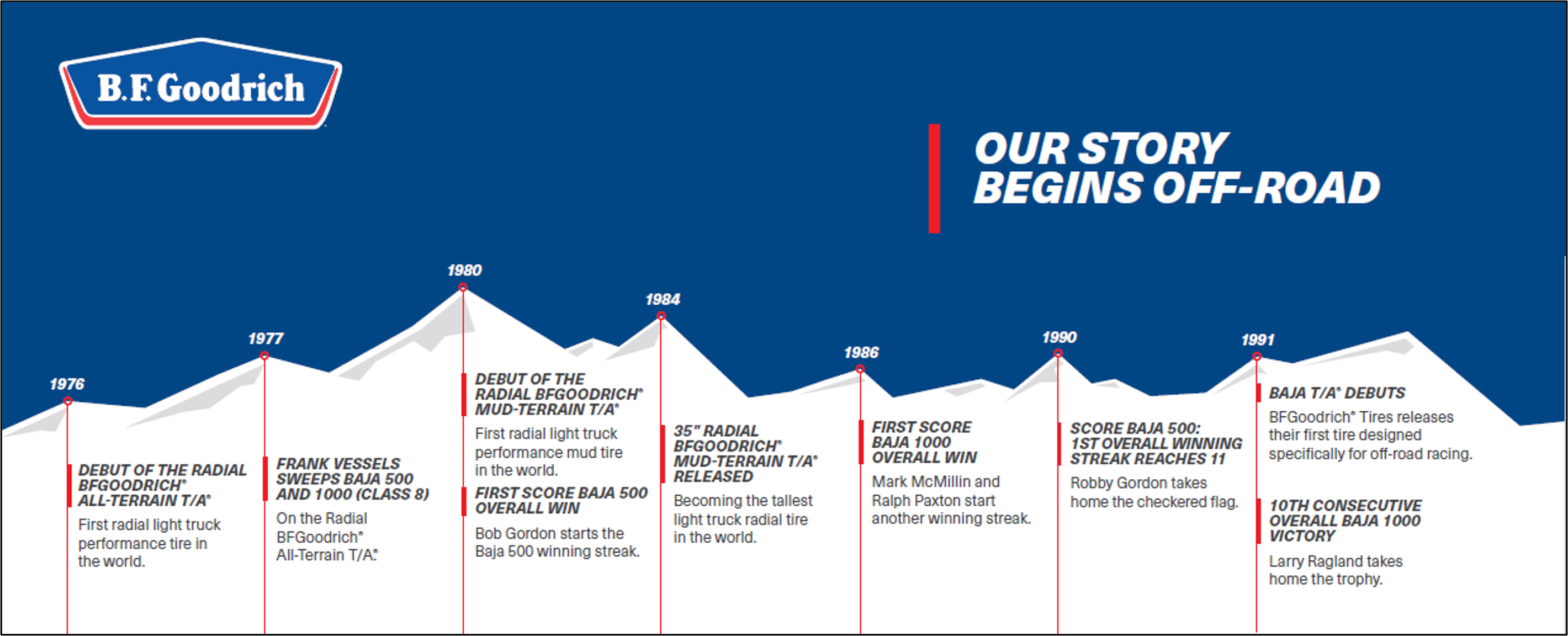 BFGoodrich began toying with the radical idea of developing a radial tire that could withstand the rigors of off-road driving while remaining suitable for highway use. But if we were going to convince the world these tires were up to the task, we were going to have to prove it – because no one out there was listening.
So, we did the unthinkable. We entered our radial all-terrain tires in the Baja 1000, the toughest off-road endurance face in North America. And like every great underdog story of the 20th century, we shocked the world by not only surviving but winning. In that moment we created a category that we still dominate today.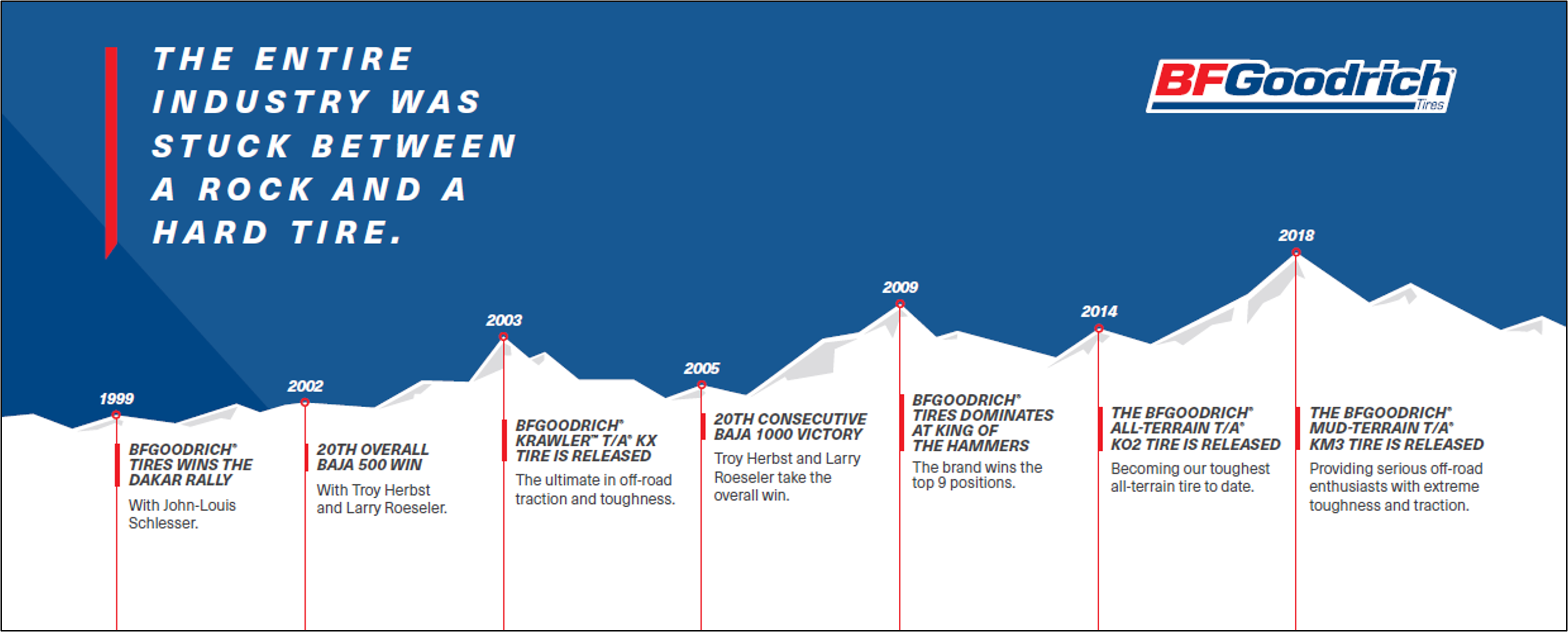 To honor hat triumph, many new BFGoodrich tire prototypes are tested at Baja, the place where it all began. Our flagship tires in both the all-terrain and mud-terrain categories have special sidewall markings to designate their victorious runs in the desert. And when it's tough enough to win Baja, it's tough enough for you.
Want to earn free sweepstakes entries? You could enter for a chance to win a set of five (5) BFGoodrich tires* or other swag*.  Get started for free, no credit card needed, download the app today. You will receive free tread points for downloading and creating an account, and can earn more by reading content in the app and completing other missions. Tread points can be used to buy sweepstakes entries*. To see more about our sweepstakes, click here.
*See Terms & Conditions and Sweepstakes Rules in the Sweepstakes tab in the BFGoodrich OnTrail App
NEED MORE HELP TO PLAN A TRIP
Our Trip Planning section gives lots of helpful information to get you started.